~ FOR IMMEDIATE RELEASE ~
Boston, MA – June 30, 2021 – A new analysis by Civilytics Consulting shows how 5 words in a Senate amendment led to $5 billion in ARPA funds shifting between states. As a result, local governments in some states can receive 10x as much aid per resident as their counterparts in other states. Rachel M. Cohen at The Intercept used Civilytics' analysis to get the Treasury, Senate Finance Committee, and other power brokers on the record about how this disparity came to be.
From the article:
First identified by the data consulting firm Civilytics, the change in terminology established a new aid formula that shifted $5 billion, or 25 percent of the total program, creating sharp disparities depending on how states classify their communities.
Civilytics uncovered this disparity while trying to help community organizers across the country understand how much fiscal recovery money their community would receive. When Treasury declined to publish timely aid estimates, Civilytics produced our own, first publishing tools to look up your community's projected allocation in March, then updating these tools with each new, but incomplete, release of information from Treasury.
While trying to understand some of Treasury's more recent information about allocations to smaller local governments – called non-entitlement units or NEUs – Civilytics uncovered that a Senate amendment led NEUs in some states to be eligible for 10 times as much aid per resident as those in other states.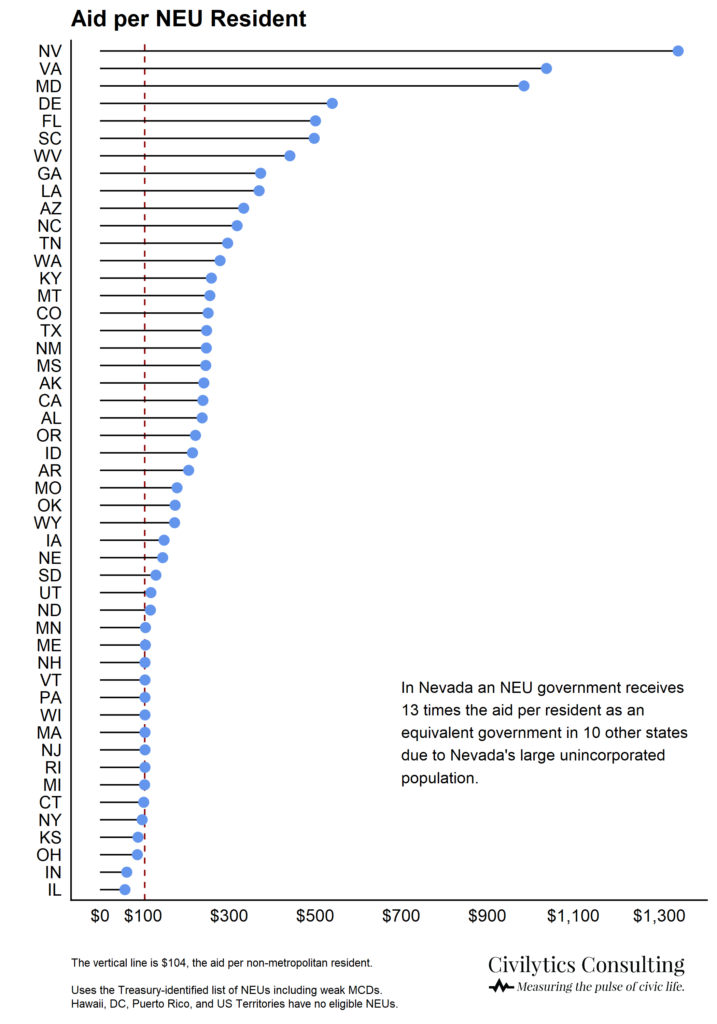 Civilytics has published articles on the extent of the disparity across states, how five words shifted the allocations, and how we overcame data-related barriers to publicly replicating Treasury's behind-the-scenes calculations.
Civilytics Consulting is a small independent data science firm based in Watertown, Massachusetts. One line of our work is helping local and state governments analyze and publish data in a transparent, equitable way. We believe people shouldn't need extensive Excel skills or insider knowledge to learn how much federal funding their community will receive. With 27,000+ towns, 100M+ people, and billions of dollars affected, we have higher expectations for the transparency and clarity of communication from our federal government.
Hopefully, Treasury will publish estimated aid allocations for the full list of non-entitlement units they've deemed eligible. Until then, communities can use Civilytics' tools to look up aid allocations or estimates for any county, city, town, or village in the country.
To stay up to date on this story and learn more about how Civilytics is working to improve the way data is used to make decisions about our communities and lives, subscribe to our newsletter, The Civic Pulse. If you have questions about this story, including how it impacts local governments in your area, our contact information is below.
Hannah Miller, Ph.D.
hannah@civilytics.com | www.civilytics.com | O: 617-600-1832 | @civilytics