And fun updates like, we have a new website and my birthday!
Today is my birthday which is usually cause for a good deal of celebrating – I usually try to fit in a summer blockbuster, ice cream, and some lawn games. Now, however, the day shares the tragic anniversary of the murder of George Floyd and calls for introspection. It looks like our federal government is not going to meet President Biden's deadline to pass police reform legislation. This was always going to be a crisis that requires work in city after city and town after town.
As I look back on the past year I'm proud that Civilytics has helped dozens of community leaders organize and advocate around their local budgets to scale back the harmful effects of policing and promote proven alternatives that work. And, I've enjoyed listening to those leading that work and sharing back what I've learned to friends, family, colleagues, and peers — including through this newsletter.
The work continues and I'm very fortunate to be doing it together with community leaders city by city, town by town. Being able to do something good, that you're passionate about, and that brings you moments of joy is truly something to celebrate. With all that said, our work continues at Civilytics. In this edition, you'll find:
Arrests in schools, and what we can do to reduce them
Urban Institute's Education Data Explorer
Updates on American Rescue Plan aid
Civilytics' new website
A roundup of what we're reading
---
Schools, arrests, and making a difference
We recently released a new tool that allows you to look up the number of referrals to law enforcement and arrests for every school district in the country. This dashboard is a collaboration between Civilytics and Lovelytics and was produced for the Tableau Racial Equity Data Hub, where Jared serves as an advisor.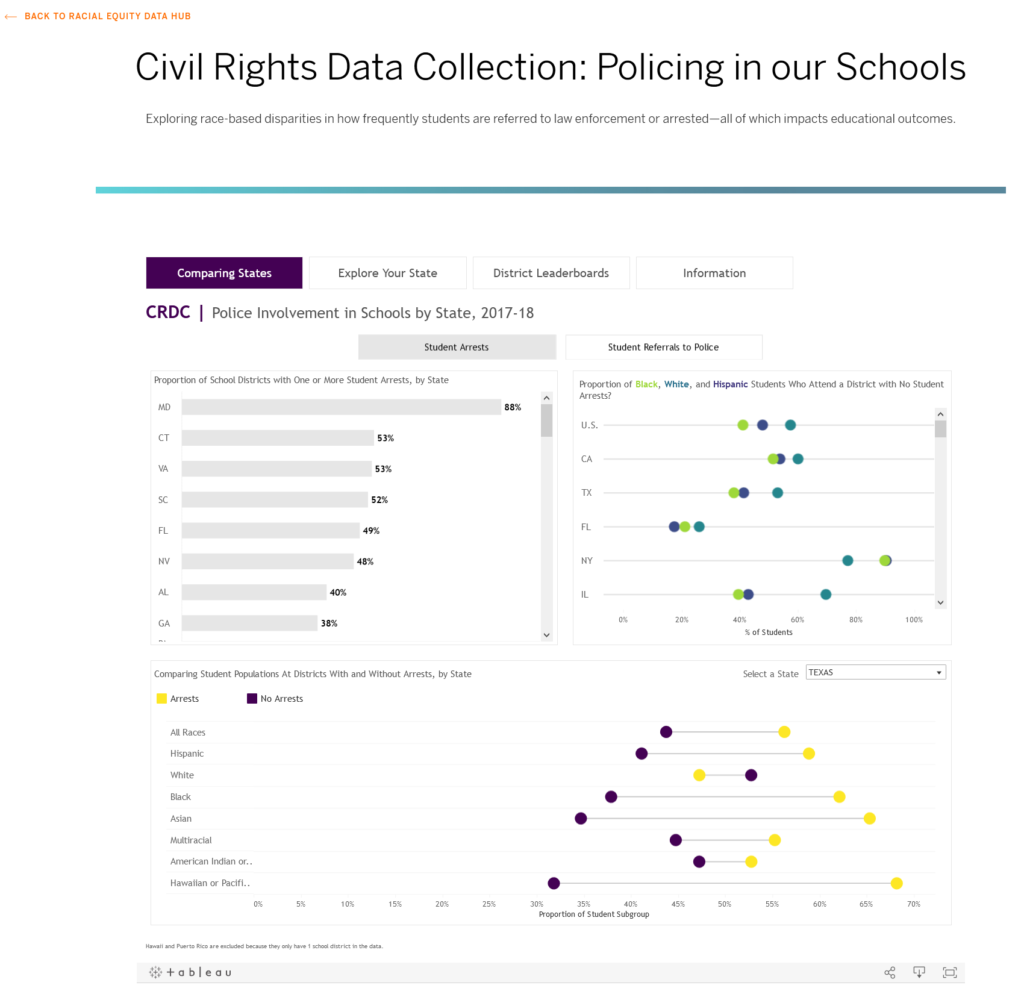 Over 221,000 student referrals were made to law enforcement in K-12 schools in 2017-18, and these resulted in over 51,500 student arrests. These referrals are intentional policy decisions — you can read the blog post announcing the tool to learn how some districts are working to eliminate or minimize these types of disciplinary referrals. Many of these referrals are for relatively minor infractions that could potentially be dealt with through school-based mechanisms.
You can use this new dashboard to find the numbers for your own district, learn how wide the racial disparities in students referred to law enforcement are, and look at which districts refer the most and least students. We have some really exciting enhancements planned for version 2.0, including a personal passion of mine, a better way to meaningfully compare rates in the presence of small populations. Stay tuned.
Are you a district or school leader who could use this tool? We are actively seeking partnerships and feedback around what the next iteration of this tool will include. Email us to get connected to the team behind this work at Tableau.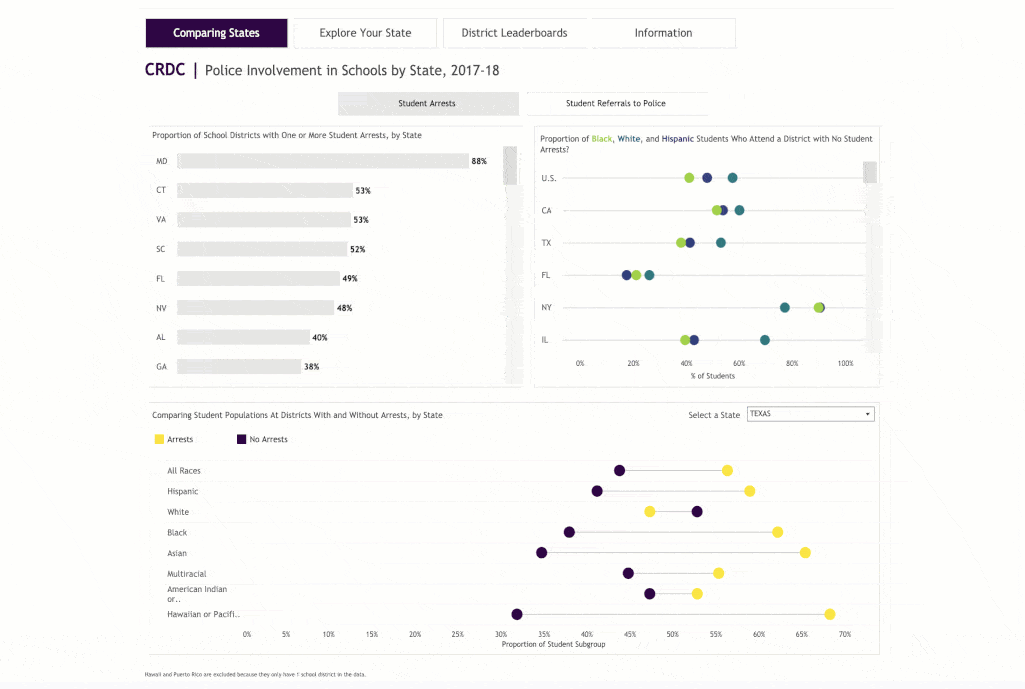 ---
Urban Institute Education Data Explorer
The Racial Equity Data Hub is not the only data initiative we contribute to and advise. We are also proud to serve on the advisory board for the Urban Institute's Education Data Explorer. If you use data from the U.S. Department of Education, you are going to love this new tool. The team at Urban Institute has taken the hodge-podge of flat files, build-a-table tools, and links to data sources on the ED homepage and put them into an API and interface that encompasses K-12 and higher education data sources.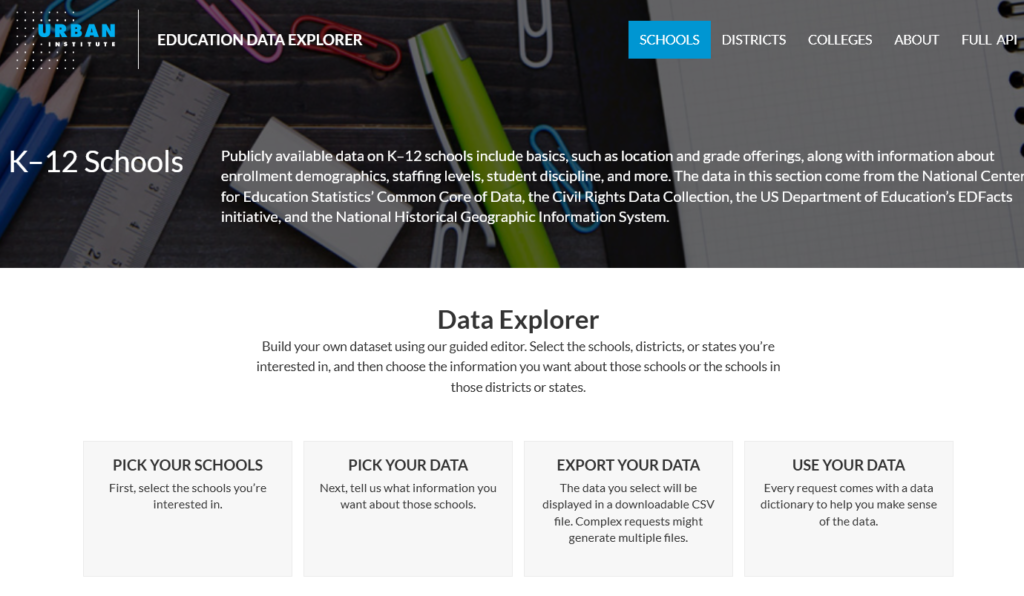 Whether you need a standard and repeatable way to query IPEDS data, want to download some quick summary statistics on education by state, or are looking to do longitudinal analysis of school-level demographic changes over time, the Data Explorer has you covered.
We are especially excited to announce that they have just added the Civil Rights Data Collection to the API, and while we weren't able to use it for the project we did with Tableau above, the project will be much easier to maintain now that we can use the Data Explorer instead of the source data.
---
Update on ARPA Aid
$350 billion of federal aid is now flowing from the Treasury to state, local, Tribal, and territorial governments across the country. All told, including separate provisions for school districts, local governments are receiving an influx of $1,000 per resident or more. (See the updated tables on our homepage to find out just how much is coming to your state, county, and town).
The Treasury has officially established the State and Local Fiscal Stabilization Fund program (FSF) and issued its Interim Final Rule clarifying the legislative language on how the funds will be distributed and monitored, and what uses are allowed.
And I read all 150 pages of regulations so you don't have to!
We are continuing our coverage of this unprecedented fiscal stimulus on our website, but here are some key things to know about this program that will be with us through 2026:
Treasury has kept the funds pretty unrestricted and particularly encourages local governments to use funding in lower-income communities (specifically Qualified Census Tracks) emphasizing that there will be additional flexibility and fewer reporting requirements if funds are spent in these communities.
Fiscal Stabilization Funds are intended for broader use than the previous CARES Act funds. The FSF goal is to prevent austerity and spending cuts in local services, and to reshape government programs to address economic and public health disparities that contributed to some of COVID-19's devastating impacts.
To learn more and get details on the types of uses Treasury recommends or specifically supports, check out our FAQs.
Treasury has also provided updated amounts of aid that communities are eligible for — use our updated tools to look up the final amounts. I'm pretty pleased that, in most cases, our aid estimates were much closer to the mark than those published by the Senate Democrats' staffers.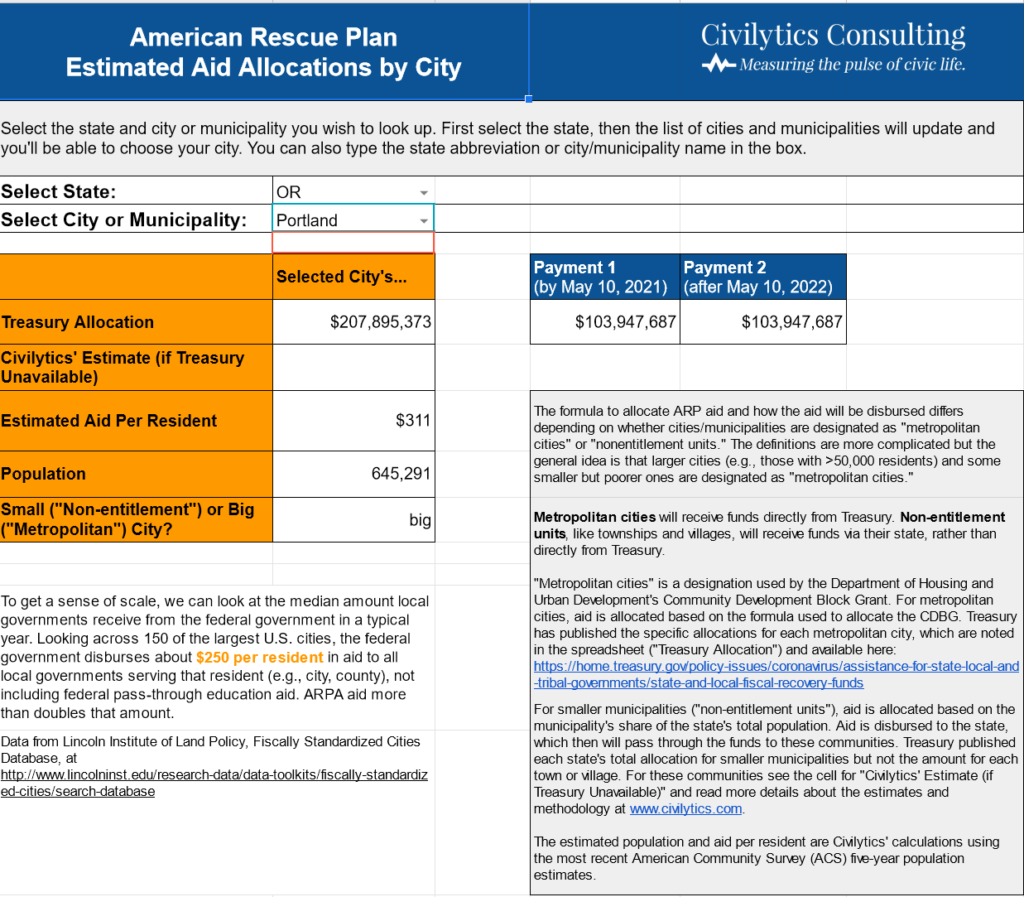 If you can get involved in your community to make sure this rare opportunity of abundance is put to use in ways that meet what your community needs, please let us know how it goes!
---
We have a new website
Speaking of ARPA aid – we are proud to unveil our new website, which we built to better communicate and keep the public up-to-date about the ARPA FSF program.
It was a busy month at Civilytics, including realizing that we needed a new website to make it easier for us to quickly update people on the rules, regulations, and uses of fiscal stabilization funds in their community. So, we put together a fresh new design, moved our content to the new platform, and tested and tweaked until it was ready to go live. Admittedly, there was one somewhat sleepless night spent editing configuration files when we moved to a new server, but now everything is running smoothly.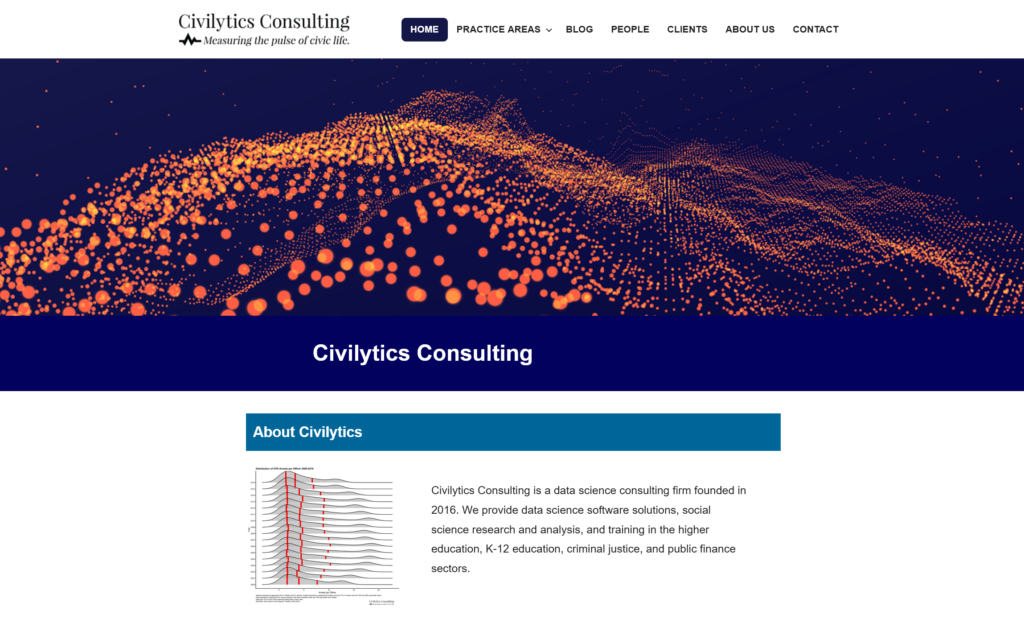 We'd love it if you took a look. And be sure to let our webmaster (me) know if you see anything wrong!
---
What we're reading and thinking about:
Publicly funded tools for redistricting need your help
This fall, redistricting will be happening in state legislatures across the country. Elected officials will be hard at work trying to pick their voters and reduce competitiveness in our elections. One of the things we can do to combat this is draw fairer alternate maps. Consider contributing to this GoFundMe to support one of the free available tools
Reform faces the reality of many small police departments
Maybe someone at the WaPo reads the Civic Pulse? This article uses a less timely dataset than we prefer to use but paints a good picture of how many police departments there are nationally and how small they are.
I read the book review but not the book on the lenses we view the Census through
The Census data are rolling out this year, spawning 1,000 takes on what it all means and how America is changing. This one is worth your time because it puts those narratives into the context of the never-ending struggle over meaning-making and framing.
Data visualizations of equity that are driving real change
We worked with a group of community leaders in LA (shoutout to Reimagine LA) who were using and visualizing data in really powerful ways to highlight the need for LA County to think big about how it spends its ARPA funds. If you like data visualization and racial equity – spend some time on this site and be inspired and educated.
On punishment, need, and pencils
I was in a workshop about breaking out of the punishment mindset where this essay was shared – I had never read it before, but it is a really quick, thought-provoking read. Instead of feeding our impulse to lecture and punish, we should just fill the need.
A 2020 election deep dive that includes data analysis
If you want a deep-dive retrospective on the 2020 election grounded in data and evidence, you would have a hard time doing better than this.
And finally:
If you are into data visualization, infographics, or want to learn a lot about the problems of mass incarceration, you will really enjoy this thread:
---
As always, we appreciate your help spreading the word about this newsletter. If you haven't already, please subscribe. If you subscribe, send it to a friend, or share it on social media. We appreciate every bit of help spreading the word.
And, we love to hear from you! If you've got a project you think Civilytics can help with or a question, do get in touch.
With gratitude,
Jared