Press Release
The report by Civilytics Consulting covers the history of campus police departments and describes where campus police departments are located, how many people they employ, what kind of arrests they make, and how they compare to city police departments. The report is accompanied by resources to inform community discussions about police accountability.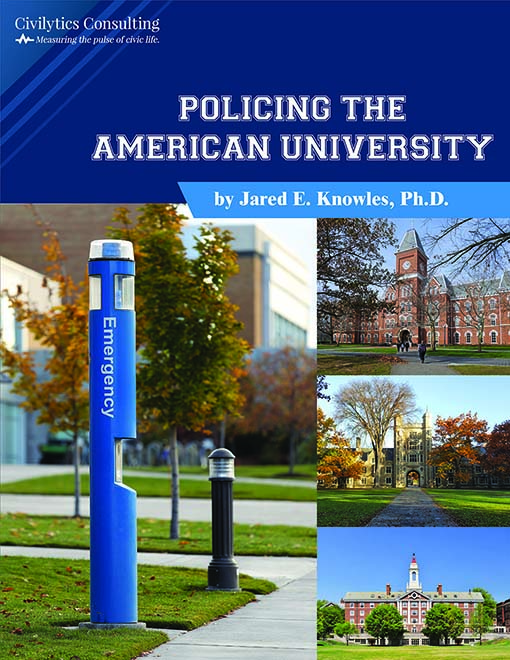 Boston, MA – February 26, 2020 – Nearly 7.5 million students attend a college with a campus police department, according to a new report from Civilytics Consulting. Over 800 colleges operate a campus police department and this report provides a first-ever look at their staffing levels and arrest patterns and trends. The report combines data from the Federal Bureau of Investigation's Uniform Crime Report (UCR) and the U.S. Department of Education to explore how common campus police departments are and the role they play on campuses.
Most campus police departments have jurisdiction beyond the boundaries of the campuses they serve – giving officers the authority to police adjacent housing, public spaces, and roads. Where do members of the public turn to get information on campus police activity? To file grievances? And who is responsible when the actions police take violate the values and norms of the community they serve?
The truth is that reliable public information about police forces in the United States is limited, but, by looking at the measures we do have comprehensively – across time and colleges, by student population, and in contrast to city police – we can better understand law enforcement on college campuses.
Highlights from the report include:
Campus police departments (CPDs) are a unique type of law enforcement agency chartered by a state legislature and directed by an institution of higher education. Unlike campus security offices, CPDs employ sworn law enforcement officers with full powers of arrest and investigation. CPDs serve public and private colleges and often have jurisdiction beyond the borders of the campus they serve
877 campus police departments in the UCR reported a total of 24,600+ employees. The median department reported 17 employees. The number of CPDs, and the number of officers they employ, has been growing steadily since 1980.
Of the 10 largest campus police departments by officers per student, 4 were private not-for-profit colleges. Overall, private not-for-profit colleges were less likely to report data to the FBI than their public counterparts, but 148 CPDs operating at private not-for-profit colleges reported data to the FBI.
Campus police departments made over 65,000 total arrests in the most recent year of data. The median CPD made 44 arrests: 12 for liquor laws, 8 for marijuana possession, 6 for driving under the influence (DUI), 5 for drunkenness, and 4 or fewer for each of the following: larceny, assault, disorderly conduct, vandalism, and drug possession.
Arrest rates have held steady or slightly reduced for most offense categories since 1980. The exceptions are for marijuana possession and liquor laws: marijuana possession arrests are up and liquor law arrests are down.
Since reporting began, CPD arrests of black adults have annually increased. Recent reductions in total arrests are due to a sharp decrease in arrests of white adults.
More than half of campus police arrests are for just three offense categories: liquor laws, marijuana possession, and driving under the influence (DUI). Arrests by city police are more diversified – it takes five categories to account for over half of municipal police's arrests. For 45 CPDs, marijuana possession arrests make up 25% or more of their arrests.
The full report features 20 figures and 8 tables and includes an online appendix with further detailed figures and tables.
The report is published by Civilytics Consulting, a data science consulting firm in Boston that seeks to improve the public's access to information necessary to gain a voice in public policy deliberations. Civilytics' work has previously appeared on the national radio program and podcast Reveal from the Center for Investigative Journalism.
In addition to the report, Civilytics has created a Campus Policing Toolkit. This toolkit is intended for communities interested in learning more about their local campus police department. The toolkit includes a dataset with the most current data on 837 campus police departments, a how-to guide for both interpreting the data and generating a community discussion, and detailed information about the data sources used. The Campus Policing Toolkit is free to the public and available today.
Campus Policing Toolkit
For more resources including data on individual campus police departments and a how-to guide for using data to inform discussions in your community about policing, check out the Campus Policing Toolkit. The toolkit includes:
A fact sheet to share with organizations you wish to invite to join this conversation.
The most current data available for 837 campus police departments across the country.
A user-guide for using both the report, Policing the American University, and local data together to begin a conversation.
Online Appendix
Get more tables and charts in the online appendix.