Education Data Done Right II: Building on Each Other's Work is now available!
Six data analysts with expertise in public education agencies across the country have teamed up to write a new volume for the Education Data Done Right (EDDR) series.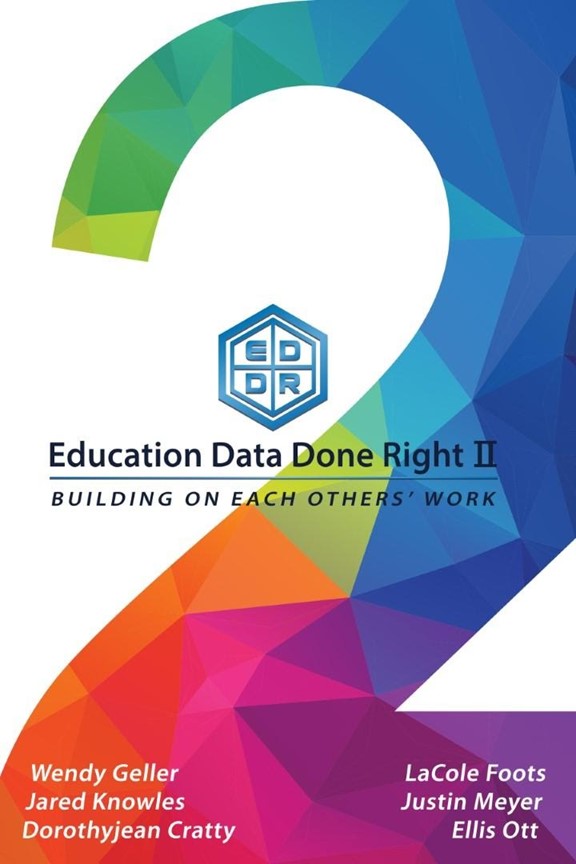 The first volume in the series covered missing elements critical to success in building data capacity in education agencies. Volume 2 showcases applied data science strategies and lessons learned in agencies across the country. New chapters explain:
What data governance is and how to approach it as an ongoing process, not one-time project
How to document work to ensure continuity of operations and transparency and reproducibility of agencies' important projects
How early warning systems can be useful in agencies' work and what to consider before creating an EWS
Why self-awareness of how identities shape the work is one of the most important skills data analysts must have
And more!
Written by Dorothyjean Cratty, LaCole Foots, Wendy Geller, Jared Knowles, Justin Meyer, and Ellis Ott, this new volume covers education data science strategies and lessons with a perspective only possible from authors who've been in the trenches and gotten the work done.
The EDDR series is intended for education agency data analysts, and data managers, strategists, and leaders seeking to improve how their agency operates.
Education agency data analysts often come from a social science research background and the transition to work inside agencies can come with a lot of new challenges. This series is a guide through those challenges.
The book is accompanied by a website where analysts across the country can get in touch and suggest contributions for planned future volumes. On the website you can also learn more about the biographies of the authors and external reviewers.
Both volumes of Education Data Done Right (EDDR) are available digitally on LeanPub with a suggested price of $18 for the new edition or a combined price of $25 for both books: www.leanpub.com/eddatadoneright.
Print copies are available at Amazon.
About the Authors
Dorothyjean Cratty is formerly a research associate at the U.S. Department of Education. She is currently the founder of DJC Applied Research, which provides high-quality in-depth data analysis of administrative education data.
LaCole Foots is a storyteller. Her Masters in Public Policy, Project Management Professional certification and strategic consulting experience affords her the opportunity to help create strategy and conduct data analysis for a state education agency. Her zeal for life and never-ending curiosity afforded her the title of a nationally ranked slam poet. Whether it's through complicated equations or finely crafted turn of phrases, she desires nothing more than to seek and speak the truth. You can catch her and her black lab Cora hiking the hills of Austin, TX.
Dr. Wendy Geller is currently the Director of the Data Management & Analysis Division. There, she leads a team that serves as a centralized resource to the Vermont Agency of Education. Her crew collects, stewards, and leverages the institution's critical data assets to create and share data products that enable empirically-based practice and policy decision-making.
Dr. Jared Knowles was previously a research analyst at the Wisconsin Department of Public Instruction and is currently the president of Civilytics Consulting LLC, which provides training, analytic services, and strategy to state and local education agencies across the country.
Justin Meyers is currently a research analyst for the Wisconsin Department of Public Instruction's policy and budget team, where he produces predictive models, works on data governance and confidential data sharing, and designs, administers, and reports on surveys. Previously he worked on all aspects of the Wisconsin school and district accountability report cards, creating numerous reproducible processes to accomplish tasks that had previously been done by hand.
Dr. Ellis Ott is the Senior Research Analyst at the Fairbanks North Star Borough school district in Alaska. For 15 years at the school district, he has conducted research and evaluation studies of district programs, and completed analyses and reports on the condition of education in Fairbanks for a wide array of topics. Dr. Ott excels in data analytics with transparency, such as the development of a data dashboard to provide information to the public.