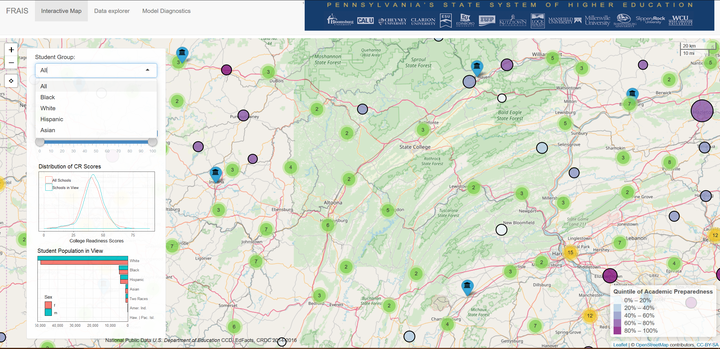 The Pennsylvania State System of Higher Education (PASSHE) asked Civilytics to build an equity-focused tool to identify high schools for recruiting freshmen to system universities. This tool uses only publicly available information to give PASSHE schools the information they need to develop recruitment and marketing campaigns.
FRAIS
Gives users tools to interactively explore the number of college-ready students across the United States including the ability to filter and sort by race and ethnicity, geography, and academic selectivity.
Is built on three publicly available datasets, using the three most recent years of data, on over 18,000 public and private high schools across the United States.
Distills dozens of measures of academic preparation into a single college-readiness score in an interactive tool that the user can use to adjust various attributes in order to best identify the student.
Uses an intuitive user interface that allows users access to use a map to identify clusters of promising students or geographic regions of interest for recruitment efforts.
Runs on free software, has low maintenance costs, and can be deployed by PASSHE to campuses.
FRAIS draws on over 600 publicly available data elements measuring college-readiness and student success available through open and public data published by the US Department of Education. The datasets used include the Common Core of Data (CCD), EdFacts, and the Civil Rights Data Collection (CRDC). The most recent year of publicly available data was 2016 so the system currently uses data drawn from 2014-2016 to forecast current high school cohort performance.
FRAIS focuses on information, not data. FRAIS combines the data from these 600 measures into a college readiness score (CRS). The CRS is a latent variable estimate of the college readiness of the average high school senior at each school. Schools are then grouped based on the weighted average of their size and the CRS – allowing the user to find concentrations of college-ready students.
The CRS is intuitive, powerful, and most importantly flexible. The user can select the CRS to be recalculated for students in different subgroups by sex or race/ethnicity. For example, a school could seek to identify clusters of Hispanic female students with a high CRS. Using FRAIS they could select these options and be shown the schools with the greatest concentrations of these students.
Users can also adjust the CRS threshold to select the level of student-preparedness they want to see schools weighted by. This gives campuses the flexibility to explore recruiting options in relation to their own admissions goals and standards.
Learn More
To learn more about FRAIS, recruitment analytic tools, or harnessing publicly available data to provide actionable information get in touch.