Jared is thrilled to be one of five inaugural advisors for the Racial Equity Data Hub, an ambitious and existing new initiative led by the Tableau Foundation. From the website:
Tableau Foundation is hosting the Racial Equity Data Hub to share insights from leading experts at the intersection of data and equity issues, and to inspire anyone to effectively and ethically use data to advocate for change.
In addition to being an advisor to the Hub, Civilytics is also providing provide data, analytics, and design guidance to support the Hub's four core focus areas:
Achieving Equitable Education
Advancing Equitable Justice
Building Economic Power
Building Political Power
Our first big contribution was a new tool using the Civil Rights Data Collection (CRDC) to examine policing and arrests for every public school district across the country. This dashboard is a great collaboration between Civilytics, Lovelytics, and the Tableau Foundation.
You can use the dashboard to find arrest and referral numbers for your own district, learn how wide racial disparities in students referred to law enforcement are, and look at which districts refer the most and least students.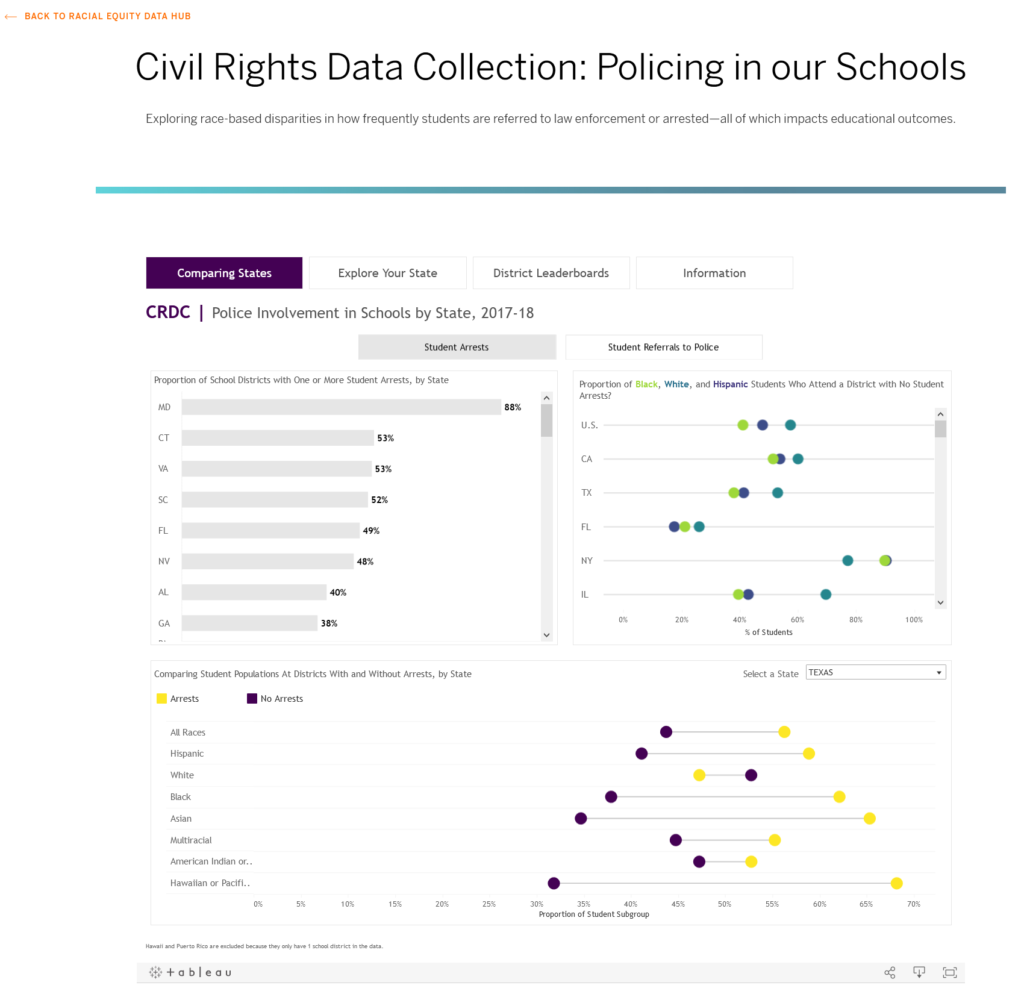 Over 221,000 student referrals were made to law enforcement in K-12 schools in 2017-18, and these resulted in over 51,500 student arrests. Student referrals are intentional policy decisions — the blog post announcing the tool describes how some districts are working to eliminate or minimize these types of disciplinary referrals, particularly for relatively minor infractions that could be dealt with through school-based mechanisms.
We have some exciting enhancements planned for version 2.0, including a personal passion of Jared's, a better way to meaningfully compare rates in the presence of small populations.
Civilytics is also very excited about the next dashboard we're collaborating on with Lovelytics and Tableau — it uses Census data to examine some of the implications of mass incarceration for political power. Stay tuned!