What is Prison Gerrymandering?
In March of last year I was approached by Natasha Haverty, an experienced reporter on prisons in the United States, to analyze data in support of a story she was writing on prison gerrymandering. That story, which has been picked up by the national radio show and podcast Reveal, from the Center for Investigative Reporting, gives an excellent overview of the issue, but more importantly, depicts the people involved.
In a nutshell, prison gerrymandering is the practice of counting prisoners as residents of the community where they are incarcerated instead of where they are from, for the purpose of political representation. In states like Wisconsin, which Natasha and I have focused our work on, the result is highly distorting to political representation because of the geographic size of the state and the disproportionality in who becomes incarcerated.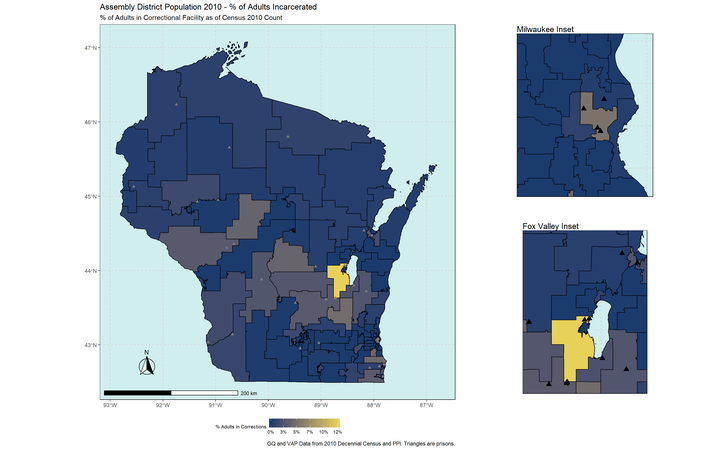 What Will You Learn?
In the Reveal story you will hear from a representative in the state legislature who represents over 10,000 disenfranchised incarcerated individuals, most of whom were from urban centers far away. You'll also hear from a county supervisor whose district population is 80% incarcerated adults. And, you'll hear from those behind bars and their families.
And, in the story, you'll learn how Wisconsin's high rate of incarceration for black adult men further contributes to the distortions in the state.
What Did Civilytics Do?
For this project, Civilytics supported the reporting by using data on Census populations and prison populations to measure the distortion of political representation caused by prison gerrymandering. Much of this work does not appear in the story, but supported the narrative of the story and informed the interviews with many of the subjects in the story.
What's Next
Next, we are working on a more in-depth look at the impacts of prison gerrymandering in Wisconsin — focusing on the policy, the political distortion, and the structural racial injustices it supports. We'll have more to share on that front soon, but in the meantime, here's a preview of what we have in store: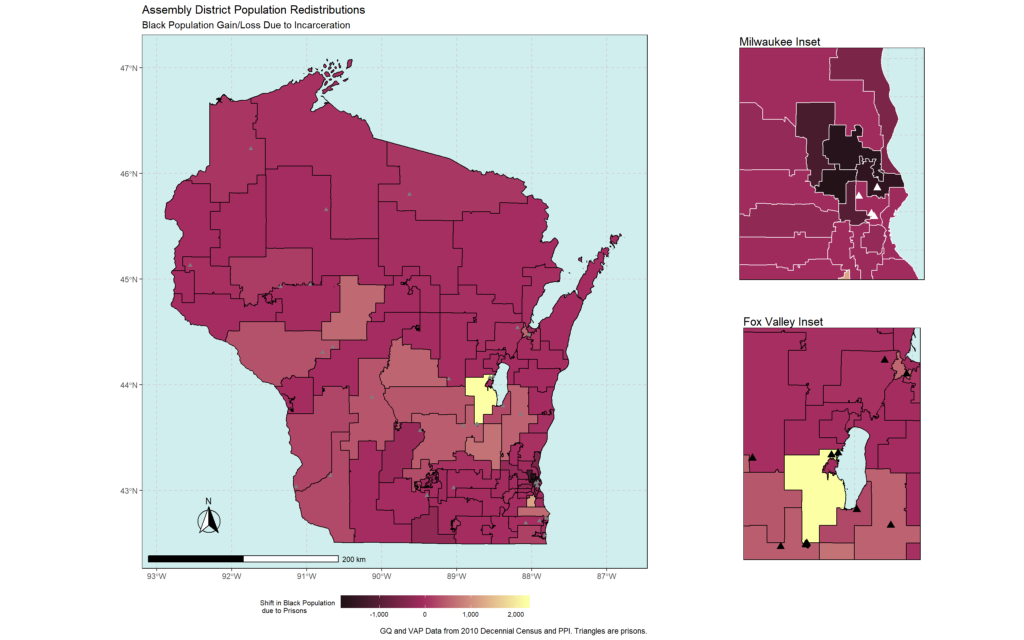 Further Reading
Learn more about prison gerrymandering, and learn about how it works in your state, from the Prison Policy Initiative.
Learn about the Group Quarters collection by the US Census Bureau, which is the data used to identify who is incarcerated and who is free in a community.